Obituary for Anna Belle Gay
AnnaBelle Graham Gay died at home in Aberdeen MD on July 24, 2017. She was born in Anderson SC on June 4, 1922 to Waymon and Maggie Bailey Graham, and was the third of four children. She was christened Annie Belle at Mt. Tabor Baptist Church, but preferred AnnaBelle, a name coined by her first-grade teacher. AnnaBelle's beloved husband for 53 years, Herman Paul Gay, died in 1998. A "Celebration of Life" service, conducted by Dr. Robert T. Clipp. Pastor of Grace UMC in Aberdeen, will be held at the sanctuary on Aug. 26th at 1 p.m. A church reception will follow the service. In lieu of flowers, Mrs. Gay requested that contributions be made to Grace Church or Harford Community College.
Mrs. Gay actively volunteered in educational, religious, and civic organizations throughout her life. She was a Trustee of Harford Community College and a member of the Harford County Board of Education. She held various offices in the Aberdeen, Harford County, and Maryland PTA organizations, including president at the local and County Council levels, and was awarded honorary life memberships in the Maryland and National PTAs. Mrs. Gay always encouraged people to further their educations.
Mrs. Gay graduated first in her class from Pendleton High School in South Carolina. This valedictorian's plans to work at the mill changed after an invited guest, a state senator, heard the 16-year-old class president address the graduates. She was awarded a scholarship to Winthrop College in Rock Hill SC where she waited tables in the dining room to help pay expenses. In 1942 she graduated magna cum laude, was the class valedictorian, and earned the first Tillman Award for leadership and academic excellence. Among her many college memories were having lunch (rather than serving it!) with First Lady Eleanor Roosevelt during her 1940 campus visit, and finally swimming one lap in the pool without sinking—a requirement for graduation!
WWII changed her plans to be a math teacher. Winthrop College President Shelton J. Phelps called Miss Graham into his office and said her teaching job was cancelled. The nation needed mathematicians to be "computers" for the Ballistic Research Laboratory at Aberdeen Proving Ground MD. She went north to help the war effort. Local residents opened their homes to boarders, and as one of the Aberdeen "Carver Girls" on Osborne Road, she formed lifelong friendships with other young women working at APG. At BRL, she met the "love of her life" and they married in January 1945. The young couple set up housekeeping in Concord Fields, a wartime housing project in Havre de Grace MD, where she fell through the attic ceiling and landed on the sofa below, narrowly missing her infant son asleep in the playpen. In 1949 the young couple bought five acres of former tomato fields near Carsins Run in Aberdeen.
In 1951 the family moved to their new house, designed by Herman's brother Richard and built by the brothers and their father Paul. In 1952 Mrs. Gay joined Aberdeen's Grace United Methodist Church, where she faithfully served for years in various capacities. She cared for infants in Sunday's nursery, enjoyed membership in the United Methodist Women's Ann Kemper Circle, served as Circle and District UMW president, chaired the UMC Christian Social Action group, and was Grace Church's lay leader for 12 years. She made countless visits to the sick and shut-ins. She was also an active Life Member of the United Methodist Historical Society. Mrs. Gay went on UMC mission trips, including hand-carrying medical supplies to war-torn Mozambique, where rebel forces shot at the small plane as they flew along the coastline.
In addition to gardening and putting up hundreds of jars of preserves, from applesauce to zucchini, Mrs. Gay was known for her Christmas cookie parties, German feasts with sauerbraten, rouladen, and dumplings, and slide-show dinner parties. In later years, she helped with "Meals on Wheels" home deliveries throughout Harford County.
Her community volunteerism often reflected her family's interests. While her four children were young, Mrs. Gay was recognized for her work in Cub Scouts, Brownies, and Girl Scouts. Although she did not know much about sports and never threw a baseball, she was official scorekeeper for her son's Little League games! She and her husband were active Aberdeen Lions Club Members, and helped raise money for many good causes over the years. Mrs. Gay was a life member of Havre de Grace's Decoy, Lock House, and Maritime Museums, and of Aberdeen's Ripken Museum. She served on the Board of Central Maryland Heart Association, and received several awards for outstanding volunteerism and meritorious service. She never held a political office, but Mrs. Gay urged everyone to vote and speak up by voicing their opinions to elected officials. Former Maryland Governor Bob Ehrlich reportedly said she was "the toughest political boss I've ever had." In 2002, Mrs. Gay was declared a "Harford Living Treasure" by the Harford County Council.
In later years, Mrs. Gay traveled throughout North America with her husband in their "portable doghouse," a RV. Her bucket list was visiting the childhood homes of presidents; his was to visit national parks. They traveled from Aberdeen to Alaska, California, the Grand Canyon, Texas, Vermont, Canada, and points in-between. International travel included Europe, Egypt, Russia, Australia, China, and New Zealand, as well as cruises to the Suez Canal, Bermuda, and the Caribbean. Mrs. Gay's ambition "to travel via as many different conveyances as possible" was often fulfilled. She went white-water rafting on Alaska's Nenana River, rode in a Mongolian pony cart and on an elephant, toured the back byways of Venice in a gondola, and visited the Pyramids of Giza astride a camel. This five-foot tall dynamo rarely backed down!
Her older and younger brothers, Max and Reece Graham of SC, died in 1993 and 1984. Her older sister, Ruth G. Sears of SC, died in 1993. Mrs. Gay is survived by four children and their spouses: Paul Gay and wife Caroline of Needham MA; Martha Gay and husband Lee Brunell of Houston TX; Nancy Gay of Berwyn Heights MD; John Gay and wife Patty of Bowie MD.
Mrs. Gay is survived by seven grandchildren: Bradford Gay and wife Katie of Westwood MA; Andrew Gay and wife Hilary of Boston MA; Louisa Gay and husband Peter Neissa of Andover MA; Nathaniel G. Brunell of Houston; Katherine G. and husband Adam Barone of Seattle WA; Robert G. Gullixson of Brooklyn NY; John Charles Gay of Bowie MD. Eight great-grandchildren survive her: Caroline, Emery, and Anna Gay of Westwood; Mason Gay of Boston; Camilla, Louisa, and Sela Neissa of MA; Annabelle Barone of Seattle. Also living are her godson and nephew, Robert Herman Gay, and his wife Louise, of Bridgeville DE. Mrs. Gay is survived by many nephews, nieces, cousins, and in-laws in DelMarVa, the Carolinas and Georgia.
To send flowers or a remembrance gift to the family of Anna Belle Gay, please visit our Tribute Store.
Previous Events
Service
Grace Methodist Church
110 West Bel Air Avenue
Aberdeen, MD 21001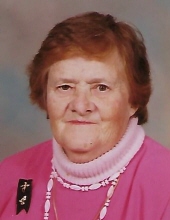 Thank you for sharing your
memory of Anna
Provide comfort by sending fresh
flowers from our local florist.
No thanks, please don't show me this again.